Before continuing, make sure you're aware that anything written in this post is purely my OPINION, which I have a right to share. If you don't agree with it, then you don't have to read it, so no hating.
Since recently Hanabi has let Gen 6 auditionees onto the forum to test their spamming ability, of course, with no idea where to go, they went and revived some old topics (or at least topics I haven't seen as having new posts in a while). One of these topics was "Favorite NEVER CHANGING members" basically for posting who are some of the H!P members that, even if you don't adore them any more, or even if you never did, hold a special place in your heart, or will always cling you your favorites list. I was bored and thinking and decided to make a blog post slightly expanding my list using reasons, extra facts and, of course, pictures~ Cause
that's what blog posts are for, right? Picture spam to go with random posts? Yes? No?
Anyway, I have no sense of order... so I may go at random, but to start me off, I'll use my very first ever H!P favorite! Jan~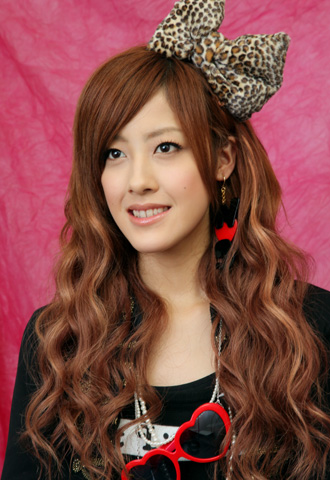 Natsuyaki Miyabi! Miiya-chan was the first H!P member I was ever introduced to since Buono! was the first group I got into. Not long after it came out, I showed a few of my friends Shugo Chara! and got them into it, not long later they informed me that the opening and endings (this was back about the time SC was only at Opening Kokoro no Tamago and ending was Renai Rider) had dances and since there were only two of them, they asked if I wanted to be the third member and learn the dances with them. It sounded like fun so I said yes and they asked which girl I wanted. I, being the attention lover I was at the time, picked the center girl - Miyabi, which, to my luck, happened to be the open one, so we didn't have to worry about switching members. Through the duration of our dancing, I came to love Miiya and my love for her got me introduced to Berryz, my 2nd H!P group. I grew more into the music and stumbled upon PH and started trying to learn Miiya's lines in a lot of songs. She was my favorite since she was the only one I knew in Berryz.
So that's my reasoning for Miiya-chan. Songs that to this day I still prefer to sing as her in are:
-Buono: Last Forever, Honto no Jibun, co.no.mi.chi, Rottara Rottara (her or Airi), Gachinko de Ikou, Kiss! Kiss! Kiss!, Lady Panther, Minna Daisuki, Shoushitsuten -Vanishing Point, Baketsu no Mizu, My Love
-Berryz Koubou: TODAY IS MY BIRTHDAY, Arigatou Otomodachi, Fighting Pose wa Date Ja Nai, Special Generation, Nanchuu Koi wo Yatteru You Know?, 21ji Made no Cinderella, Gag 100kaibun Aishite Kudasai, Munasawagi Skarlet, Tsukiatteru no ni Kataomoi, Dakishimete Dakishimete
-Other: FIRST KISS (Aa!)
Murakami Megumi. Megu was my first experience with C-ute, I really don't know how. Probably came when I checked out C-ute's PH lyrics and saw she was a lead? I don't know, but I loved her voice and her PH color, so I made her my favorite. Since then I've grown to love her voice very much and, even though I don't know much about her personality, she's still my all time favorite C-ute member.
Songs I still like to sing as her in are:
-C-ute: Massara Blue Jeans (her or Maimi), Soku Dakishimete, Wakkyanai (Z), Ooki na Ai de Motenaishite, Endless Love ~I Love You More~, EVERYDAY YEAH! Kataomoi
-Other: Suki ni Nacchata Ikenai Hito (H!P ALL STARS), Shiroi Tokyo (ZYX), Iku ZYX! FLY HIGH (ZYX)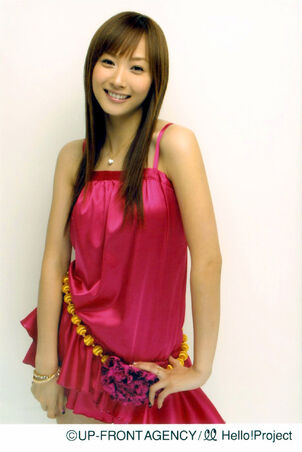 Fujimoto Miki. Mikitty was my first ever Morning Musume favorite. As I mentioned previously in alternate wording, I was quite the line whore when I first got into H!P, for groups other than Buono, my favorites were determined by who had the most lines in songs, and since Morning Musume was only at about Mikan or so when I first got into them, most of the songs I looked at had Mikitty as one of the leads, so I went with her (and Reina after she left, but Reina did not remain in my "forever favorites" list). Mikitty is not only my first favorite Morning Musume, but also the first H!P soloist I was ever exposed to. This happened when a project I was in closed a group I was in and decided that the people who actually got lines in would be assigned soloists, I was assigned Mikitty and was to debut with Sotto Kuchizukete Gyutto Dakishimete (even though I did my lines and it was never released), but I looked into her other songs and fell in love with them. So much so that it took until less than a year ago before someone finally passed her on my favorite soloists list (Kikka and Ayaya both did, making her fall to 3rd).
Songs I still like to sing as Mikitty in:
-Morning Musume: Egao YES Nude (her or Aika), Osaka Koi no Uta (her or Niigaki), The Manpower!, Roman ~My Dear Boy~, Ai no Sono ~Touch My Heart - Otomegumi (her or Ogawa), Samui kara Fuyu da mon! ~Doumokou mo Naissu yo Mikitty~, Lemon Iro to Milk Tea
-Solos: Okitegami, Boogie Train '03, Boyfriend, Romantic Ukare Mode, Sotto Kuchizukete Gyutto Dakishimete, Aenai Nagai Nichiyoubi, Let's Do! Daihakken, Namida GIRL, SHALL WE LOVE (Fujimoto Version)
-Other: Melodies (GAM), Thanks! (GAM), Aijou Oasis (GAM), Shining Itoshiki Anata (Country Musume ni Konno to Fujimoto), Uwaki na Honey Pie (CMnKtF), SHALL WE LOVE (Gomattou), Onna Kanashi Otona (Summer Shuffles), BE ALL RIGHT (Summer Shuffles)
Mitsui Aika. About a year ago, I think, I went through this really weird obsession with Aika... I really have no idea how it started... but it wasn't long after I joined Hanabi... I remember that much cause Aika was my member in the background back when Mychuu was Gaki and Fuyumi was still dubbing... yeah... the trying to remember why isn't working out, so I'll just say somehow I just realized how freaking adorable she was and just couldn't let it go! I've long been over that little phase, but ever since then I've still held an appreciation for Mitchi. GET WELL SOON! <33
Songs I still like to sing as her:
-Morning Musume: Egao YES Nude (her or Miki), Nanchatte Renai (her, Niigaki, or Junjun), Onna ni Sachi Are, Watashi no Miryoku ni Kizukanu Donkan na Hito, Haru Beautiful Everyday, 3 2 1 BREAKIN' OUT! (her, Niigaki, or Takahashi)
-Other: Omakase Guardian (Guardians 4)
Yaguchi Mari. Minimoni was the first H!P Subgroup that peaked my interest, and I immediately fell in love with Chibi-leader Gucchan during that experience. It was my love of Marippe that caused me to have resentments towards Takahashi Ai when I first got into H!P because my impression of her was that she "kicked Mari out of Minimoni and completely changed the group once joining". This accusation was, obviously, completely inaccurate and childish, but hey... I was a newb XD Now I love both of them, but I still prefer the good old days of Minimoni with Gucchi as the leader and childish songs and videos. (I still hold resentments towards Minimoni Kazoe Uta. ~Date Version~, but that's a topic for another time). The one thing about Marippe, though, is I strongly prefer her voice with other people. I don't care if she's the lead vocal, but I didn't like how she sounds in solos much. I guess her voice just sounds a lot better with other vocals backing it up (also why I like Kaze wo Sagashite much more than Seishun Boku).
Songs I like to sing as her in:
-Morning Musume: Say Yeah! ~Motto Miracle Night~ (her, Nacchi, or Goto)
-Minimoni: Mini. Strawberry Pie, Ai~n Dance no Uta, Okashi Tsukutte Okassui~!, Genki Jirishi no Oomori Song, Minihamuzu Kekkon no Uta
-Other: Kaze wo Sagashite (Yaguchi Mari with Straw Hats), Summer Reggae Rainbow (Summer Shuffles), Aoi Sports Car no Otoko (her or Ichii Sayaka) (Summer Shuffles)
That's really it for old favorites from what I can remember, so to finish this up I'll just list some of my current favorites and the songs I like to sing as them (more than anyone else in the song to keep it limited) in just for the heck of it~ XDD
Niigaki Risa!
-Morning Musume: Tomo, Shouganai Yume Oibito, Naichau Kamo, Yowamushi, Resonant Blue, Souda! We're Alive, Michi Naru Mirai e (Tanjou 10nen), Silver na Udedokei, Kono Ai wo Kasanete, Kaiketsu Positive Ace, OK YEAH, Bravo!, Moonlight Night ~Tsukiyo no Ban Da yo!~, Namidacchi, Ano hi ni Modoritai, Loving You Forever, Take Off Is Now!, Shanimuni Paradise, Kotatsu no Uta ~jyuken story~, HOW DO YOU LIKE JAPAN? ~Nihon wa Donna Kanji Dekka?~, Suki na Senpai, Densha no Futari, Appare Kaiten Zushi
-Other: Busu ni Naranai Tetsugaku (Mobekimasu), Seishun LOVE Lunch/Honki Meki Meki Toki Meki Meki/Shouri no BIG WAVE/Yuugure Sherbert (all Athena & Robikerottsu), BE HAPPY ~Koi no Yajirobee~ (Tanpopo), Kowarenai Ai ga Hoshii no (7AIR)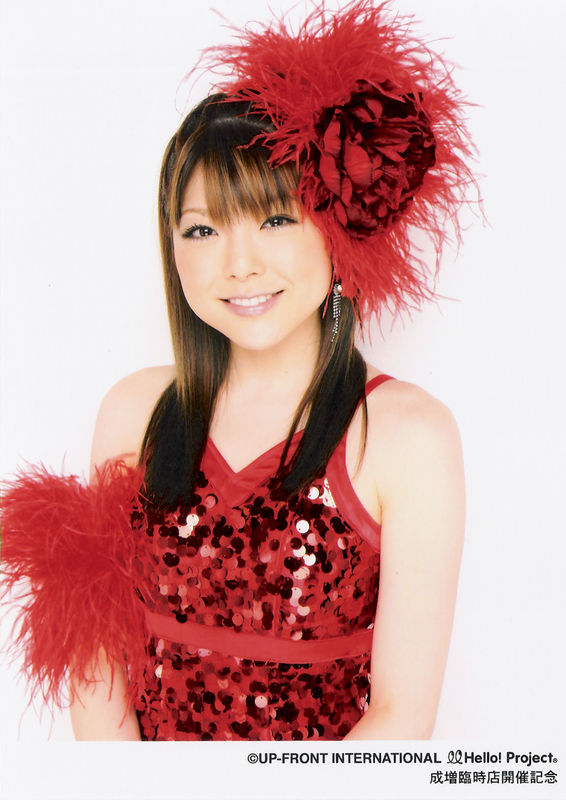 Ogawa Makoto!
-Morning Musume: Mushoku Toumei na Mama de, Joshi Kashimashi Monogatari (all 3 vers)
-Other: WOW WOW WOW (Pucchimoni), Shiawase Beam Suki Suki Beam (Happy 7)
Fukumura Mizuki!
-Morning Musume: My Way ~Joshikou Hanamichi~
-Other: Moshimo... (Mobekimasu), Arigatou ~Ookiku Kansha~ (Shugo Chara Egg), Watashi no Tamago (Shugo Chara Egg)
Shimizu Saki!
-Berryz Koubou: Ai no Dangan, Ryuusei Boy, Tomodachi wa Tomodachi Nanda!, BOMB BOMB JUMP, Yakimochi wo Kudasai, Baka ni Shinaide, Ah! Merry-go-Round, Joshi Basket-bu ~Asaren Atta Hi no Kamigata~
Okai Chisato!
-C-ute: Momoiro Sparkling, Kiss Me Aishiteru, Edo no Temari Uta II, Kimi no Senpou, Sweets->->->Live,
-Other: Akai Sweet Pea (Tanpopo #)